"Linutop is delivered with free standard ready-to-use Linux software: Firefox, Open Office, VLC Media player... and can be easily customized with additional software.
Linutop - Low Power Thin Web Client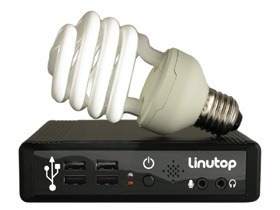 Linutop implements the latest computer power saving technologies. With less than 8 watts of power consumption it is one of the most energy efficient on the market.
The Linutop system can be locked by a password, so it can't be altered by virus or mishap.
Linutop was awarded the TIC21 price for sustainable innovation 2007"