Zoho has an array of Web Applications and Services for both areas - The standard Computer Productivity Suite for Small Office/Home. The second being Enterprise and Business Tools for Firms/Companies who would like to simplify their Office Automation tasks.
Zoho - Online Business Applications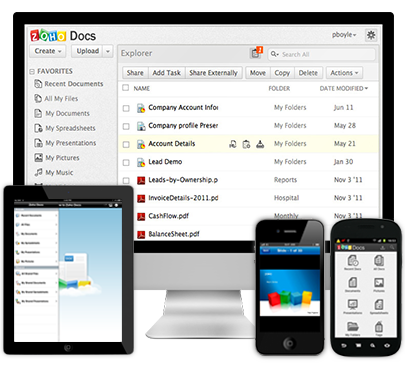 Some Standard Apps are -
Zoho Mail, Zoho Writer, Zoho Sheet, Zoho Docs and others.
Some Buisness Apps are -
Zoho CRM - On-Demand CRM Solution
Zoho Projects - Project Management Software
Zoho Creator - Database Software & Online Forms
Zoho Business - Email Hosting & Office Suite
Zoho Invoice - Invoicing. Quick and Easy
Web Applications simplify office automation to a high degree, without adding more complexity in system admin and process maintenance that exist in legacy solutions. -
SAN Gear