This project aims to create an archive of clip art that can be used for free for any use. Public Domain Graphics as is the Creative Commons.
Open Clipart Library - Enchanting Graphics
What's the deal with all these different graphic formats? BMP, JPEG, GIF, PNG, SVG, WMF...?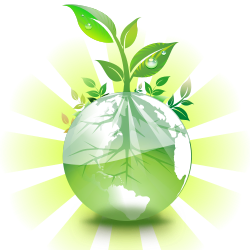 JPEG, on the other hand, uses a different approach for achieving compression. The method it uses drops some of the data, so it is called "lossy". It does this using some known tricks to how the human eye works. This works well for photographic images, less so for artwork, and extremely poorly for line art. The problem with JPEG, as it relates to clip art, is that JPEGs show artifacts (strange blocks and shadows) when you zoom in on them. You also can't edit them often. When you save the JPEG again, the computer saves the original artifacts and creates more, so the quality goes down. The higher the compression ratio you use, the faster it'll get bad.
PNG (pronounced "ping") is usually the best raster format for saving clip art, but it too has a few tradeoffs. It is a lossless format so it doesn't have the problems that JPEG has, and it uses more colors and better compression than GIF. However, the file size still gets unreasonable for large images, and it is not supported by some applications. This is much less of an issue today than it was a few years ago, but since most Microsoft programs don't display PNGs correctly, many users are still affected.
Scalable Vector Graphics SVG

SVG is a language for describing two-dimensional graphics and graphical applications in XML. SVG 1.1 is a W3C Recommendation and forms the core of the current SVG developments. SVG 1.2 is the specification currently being developed as is available in draft form (comments welcome). The SVG Mobile Profiles: SVG Basic and SVG Tiny are targeted to resource-limited devices and are part of the 3GPP platform for third generation mobile phones. SVG Print is a set of guidelines to produce final-form documents in XML suitible for archiving and printing. Read more about SVG.